Biography.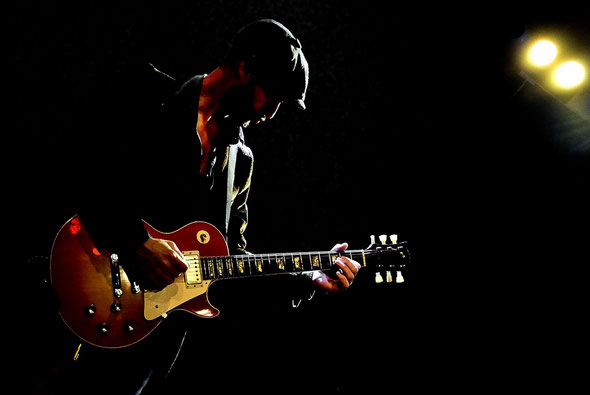 Pic. Paolo Farolfi
"… Musicians as him as Spencer Bohren and as Angelo "Leadbelly" Rossi so much to make some examples those from which to take sprouts. People that is that when they climb on the stage they know whether to do, and doesn't introduce twice never the same show to the public. "
Il Blues
RIKI MASSINI, is present on the most prestigious stages in Europe, and in the last decade his tours have touched the United Kingdom, Switzerland, Ireland, Holland, Norway, France, CZ, China and USA.
He has had the honor to play between collaborations and jam sessions with musicians of international fame: GARY PICKFORD HOPKINS (RICK WACKEMAN, WILD TOURKEY), LOUISIANA RED, TOMMY EMMANUEL, PAUL JONES (THE BLUES BAND), GRAHAM WALKER (GARY MOORE), GLEEN CORNICK (JETHRO TULL, WILD TOURKEY).
He was invited in London by ABRAHAMS to record live the "MICK ABRAHAMS 65th BIRTHDAY GIG PARTY", concert become also DVD. A great event in which he has played with PAUL JONES (THEUES BAND), ELIOTT RANDALL (THE DOBBIE BROTHERS), GEOFF WHITHEHORN (ROGER DALTREY BAND, PAUL RODGERS BAND), SHARON WATSON, the original members of the BLODWYNs PIG, with a historical rhythmic section, GRAHAM WALKER (drummer of GARY MOORE) and great JOHN (GUINNESS) GORDON bass player already with ERIC CLAPTON.
Various passages in Radio among which: THE ALAN THOMPSON Show, from the famous BBC Radio in England, while in Italy LIFE GATE and Rock FM, in the transmissions of the mythical harp player FABIO TREVES.
Riki is considered by Donal, brother and manager of the late Rory Gallagher, one of his best interpreters and he was invited to play on one of the most famous stage in the world, THE CAVERN CLUB of Liverpool, for the annual concert dedicated to the Irish guitarist.
In June 2016 Riki has been invited as Italian representative at the Chicago Blues Festival where he could perform with the Chicago legend Fernando Jones in more episodes at the Grant Park Jackson & Columbus in what is perhaps the most important blues festival in the world.
He played at the most important Festivals among which:
BLUES TO BOP (CH), PISTOIA BLUES FESTIVAL (IT), RORY GALLAGHER INTERNATIONAL Festival in UK, Ireland, Holland and Norway, CORK ROCKS FOR RORY (IRE), TORRITA BLUES FESTIVAL (IT), ROOT'S AND BLUES FESTIVAL (IT), Vicenza Blues Festival (IT), BORDIGHERA BLUES FESTIVAL (IT), PIGNOLA BLUES FESTIVAL (IT), NISTOC BLUES FESTIVAL (IT), CASTELFRANCO BLUES FESTIVAL (IT), RIVER BLUES FESTIVAL (IT), RED & BLUES FESTIVAL and many others.
Concerts of opening to many great international musicians among which: JOE COCKER, JETHRO TULL, JOE BONAMASSA, LOUISIANA RED, TAJ MAHAL, KENNY NEAL, WATERMELON SLIM, IKE TURNER, TREVES BLUES BAND, SCOTT HENDERSON, NINE BELOW ZERO, OTIS TAYLOR, ERIC BELL (THIN LIZZY), BARRY McCABE, MICK TAYLOR and many others.
He actually plays around Europe with Clive Bunker, the legendary drummer from the original Jethro Tull band.